Hilary Bradt, founder of Bradt guides, first visited Ethiopia in 1976, and wrote home about fleas, unrest and staggering beauty. How different would it be now?
In 1976 I backpacked through Ethiopia during the final stages of an 11-month overland journey from Cape Town to Cairo. I was arrested for discussing capitalism, bitten to distraction by fleas, walked for three days to reach the holy city of Lalibela, and was forbidden to travel at night because of shifta (bandits). Nevertheless, it was one of the highlights of my African travels because of its cultural distinctiveness and gorgeous landscape.
During the trip I wrote home to my parents regularly, describing the highs and lows of our travels. They kept my letters, and I rediscovered them last October, when I decided to return to Ethiopia and see for myself the changes that had taken place.
My 2010 itinerary covered just the popular northern historical circuit, but these places were also the highlight of the 1976 journey. Then we took a series of buses from the Kenyan border town of Moyale to Addis Ababa, where we stopped to research what there was to see in the rest of the country. In 1976 there were no guidebooks to this part of Africa, so we talked to as many people as possible, experts and locals. Then we spent two months in Ethiopia, crossing the border into Sudan just a few hours before our visas were due to expire. In 2010 I travelled in much more style, staying in new luxury lodges, and found a country that is still exotic, but now safe and accessible.
Arrival
1976 We have arrived in Mega. Amazing! The streets are teeming with people like something out of the Arabian Nights. Wild-looking men carrying spears, aluminium-encased women with sagging breasts, fuming camels, donkeys, children riding around on billy goats. "Ferengi, ferengi!" shriek the children (the word for foreigner).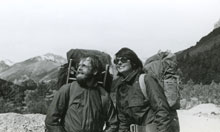 Hilary and George Bradt, 1977.
Just wandering the streets and listening makes us realise how different this is from the rest of Africa. Radios are belting out the wailing Arab-style music beloved in Ethiopia. Competing with this racket is the jangle of harness bells as skeletal horses with running sores are whipped along at a spanking trot. And louder than anything, of course, is "Ferengi, ferengi!" The small towns of Ethiopia are, frankly, squalid. The streets run with sewage, and people and animals urinate at will. There seem to be a huge number of people dressed in monochrome rags who have nothing to do but bait foreigners, and the angry demands for money follow us everywhere.
2010 There are still monochrome rags but the anger seems to have dissipated. People chat to us in perfect English and sometimes try to sell us handicrafts or offer to be a guide, but politely.
Accommodation
1976 We can get away from the people but I wish we could also get away from the fleas. I'm awfully lucky – apparently I don't taste good – but George is covered in bites, even though he's spent most nights on the floor. We pay less than $1 for a room. One of the boys found us this little hotel (in Lalibela) which has hay on the floor and a lovely shower in the middle of the "landing": a bucket with a shower attachment that the landlady filled with hot water.
2010 Being whisked from the airport to the Sheraton is a very agreeable way of gently adjusting to the country. There's a huge swimming pool, roses are in bloom in the verdant garden, and I feel pleasantly cocooned from reality. Later we visit Bahir Dar and the new Kuriftu Resort and Spa. I don't think I mind luxury after all. I'm sitting on the terrace overlooking Lake Tana, with a beer and my binoculars, watching a group of pelicans skimming over the water while a fish eagle surveys the scene from the top of a tree.
Food and drink
1976 We have our first proper Ethiopian meal. The injera, flatbread, is identical in appearance and texture to George's old foam-rubber mattress. It has a sharp, sour taste. The wat, stew, can be nice or only tolerable but is necessary to make the injera bearable. Together they're rather good.
You sit round a big plate of it, and the foam rubber comes folded tastefully over the sludge of wat in the centre. A short hand-washing ritual is followed by rip, scoop, slurp. Fingers only, right hand only. Apart from bread this is the only food you can buy, so it's good that we like it.
In Dessie we pass a tej abet (mead house) from where rather nice music is issuing. When we peep through the windows we are beckoned in to drink tej, mead, or honey wine, and listen to some very good playing on the one-stringed African violin. I never knew that such tonal music could come from such a primitive instrument. A song was created for the ferengis and then our names were requested and a special song for George was sung. And then for Hilary. Everyone loved it although we could only understand the names. Then a woman swaggered in, very elegant, and sang a song about George's watch and how nice it would be to have it. We decided we'd better leave, after making an appropriate money donation.
2010 For our first meal in Addis we're invited to the Yod Abyssinia restaurant and any suspicions that Ethiopia has changed beyond recognition are expelled. There is our favourite African meal: the same grey foam-rubber and the same-coloured piles of sludge. But this is superior wat, fiery hot, multi-flavoured, and utterly delicious. Music is played throughout the meal, but then the dancing begins and it is quite extraordinary. Ethiopians dance as you'd imagine insects would dance: their heads, chests and hips seem to be three different components, all moving independently. Most incredible of all is the woman with dreadlocks who tosses her head so rapidly and so violently that you expect it to sail across the room and land on someone's injera.
Transport
READ MORE OF THIS STORY on THE GUARDIAN