(CNN) — In the 1990s Ethiopian supermodel Anna Getaneh walked the runways of Paris and Milan. These days she is putting her flair for fashion to good use, helping deprived children in rural areas of her home country.
"I was working in an industry where I felt that there were very few Africans that were represented," says Getaneh, who modeled for Yves Saint Laurent, among others.
"Africa's presence was sort of very vague or reduced to being different," she adds.
In 1995 Getaneh visited a refugee camp on the border of Ethiopia and Kenya with Pharmacists Without Borders. She returned to New York "moved" and inspired to make a difference.
"My life I think completely changed from then onwards," Getaneh recalls.
After the trip Getaneh set up ECF — the Ethiopian Children's Fund. "It became pretty much the number one focus in my life until I had my own children," she says.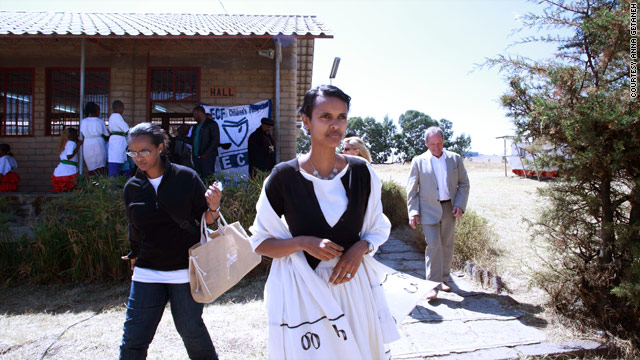 ECF has set up a school, health clinic, feeding program, and environmental programs for 600 poor and vulnerable children around Aleltu, 55 kilometers north of Addis Ababa, the Ethiopian capital.
The school has just produced its first batch of graduates. From 21 students sponsored by ECF who took their national exams in 2010, 18 passed, two of them with distinction.
The first graduation, Getaneh says, was a "wonderful, emotional and a very proud moment for all of us involved."
In 2004 Getaneh founded African Mosaique, a Johannesburg-based fashion house promoting high-end African-inspired clothing and accessories.
Getaneh says it "never ever really" occurred to her, despite her international success, to use her own name for her house, as the aim was to feature established, emerging and cutting edge designers.
African Mosaique promotes designs created by dyeing, weaving, and embroidery.
"I never really thought that I would really end up designing my own collection or having my own design house," says Getaneh. "I sort of became a designer by default."
The company also works with Fashion Outreach, a US-based non-profit organization encouraging minority participation in the American fashion industry.
But Getaneh's charity work remains her great passion and she uses her fashion shows to raise funds for ECF projects.
"This (my humanitarian work) remains one of the most important things in my life and the great thing is there's the fashion to balance it off," she says.