ETHIOPIAN ORTHODOX CHURCH Fasting / Feast /and Holy Days (Major and Minor etc.)
UPDATED 2020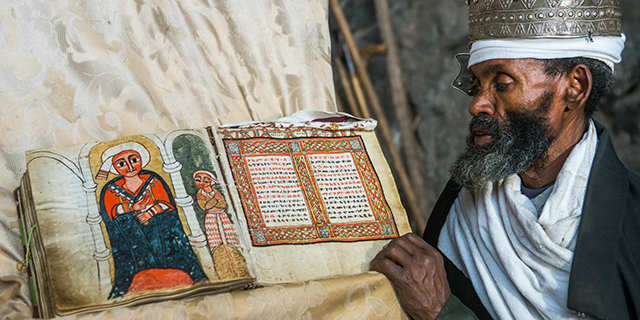 Holy Days ~ The following is a list of Orthodox Christian Feasts, Fasts and other National Days during Ethiopian Year ~ Saints' days and other Feast Days have not been imposed by any law of God, they were established by the church herself. ~+~ Some go back to apostolic times and others are later origin. There is a great number of feasts in the Ethiopian Orthodox Church. I pray that this list will be helpful with the Western Calendar dates. ~ 2020 Underlined the Updates for the "movable" Fasts and Feasts, so it maybe help you plan ahead on your home calendar. Please let me know if you have a question or if you see typing mistakes. I tried my best to check: May our Lord God Strengthen you with His Grace and Peace throughout the "fasting Season". Bless You - Emahoy Hannah. ~ Please SHARE freely with others.
~~~
The Principal FEASTS DAYS of the ETHIOPIAN ORTHODOX Church are:
+ 9 Feasts of the Lord,
+ 33 Feasts of our Lady, Dinagl Maryam
+ Feasts of the Apostles
+ Sunday, Saturday
+ Feasts of the Angels
+ Feasts of the Righteous (Saints)
+ Feasts of the Martyrs.
~~~
FASTING DAYS ~ There are 7 official fasting periods ordained in the Fetha Negast.
There are 180 of fasting days in total which are obligatory for all Orthodox Christians.
Total of 250 fasting days a year are for Monks/Emahoys (nuns), Priests and other special groups in the church.
The longest periods of fasting are those of Lent. Advent and Kweskwam (forty days preceding, 'the fast of the flight to Egypt').
~~~~~~~~~~~~~~~~
*** The 7 Official Fasting periods for Lay Persons are:
*** FIXED DATES:
All Wednesdays and Fridays, (except the 55 days after Easter, and also if the Feasts of Christmas and Epiphany falls on these days)
Fast of the Prophets (Tsome Neviyat) . . . . . . 25 November to 06 January ~ The 43 days before Gena.
The Gahad of Epiphany (The Vigils) . . . . . . . 18 January
Assumption of the Virgin Maryam (Tsome Filseta) 7 - 21 August ~ This fast is kept strictly by the church
*** MOVABLE DATES:
Jonah's Fast of 3 days (Ninevah /Nenawe) . . 10,11,12 Feb. 2020 Always on Mon, Tues, Wed. Commemorating the preaching of Jonah
Apostles Fast (Tsome Hawariat) . . . 08 June - 11 July (Monday after Pentecost & Always ends by 12 July (Varies each year 10-40 days), which the Apostles kept after they had received the Holy Spirit. (Martyrdom of St. Peter & St. Paul is observed the day after)
~~~ FASTING ~ MOVABLE DATES ~~~ UPDATES for 2020 WC
+ MAJOR HOLY DAYS ~ in Ethiopian Orthodox Church Liturgical Calendar
Some dates are variable depending on date which Siklet/Easter falls on that year.
GREAT LENT/Hudadi /ABYE TSOME (Fast of fifty-five days) 24 Feb. to 19 April 2020
SEMUNE HIMAMAT / WEEK of SUFFERING (Passion Week) 13 April - 18 Apr. 2020
(It's literal meaning in Ge'ez = "week of sufferings" This week dedicated to remember Christ torture and scourge for the sake of our salvation, as stated in the Holy Bible. It's also known as "Passion Week" from the eve of Palm Sunday to Easter Sunday.)
+ Hosanna /Palm Sunday . . . . . . . . . . . . . . . 12 April 2020
+ Maundy Thursday /Holy Thursday . . . . . . . . 16 April 2020
+ Siklet / Orthodox Holy Friday *Crucified . . . . 17 April 2020
+ Holy Saturday/ Christ Lay in the Tomb . . . . . 18 April 2020
+ Fasika /Orthodox Easter*Resurrection (Tensaye) .19 April 2020
*** We Do Not Fast from Easter until the Monday after Pentecost. (No Prostrating to the ground either)
Ereget /Ascension of Christ . . . . . . . . . . . . 28 May 2020
(Always Commemorated on a Thursday)
Paracletos /Pentecost / White Sunday. . . . . 07 June 2020
~~~~~~~~~~~~~~~
+ All persons above the age of 13 observe the church fasts. ~~~
+ There is a fast of desire which a man keeps if he thinks that he will subdue his body by extra good works.
+ There is a fast which a Bishop keeps at the time he is consecrated.
+ There is a 40 days fast for all new monks/emahoy (nuns), which begins the day of consecration and continues in seclusion. * We are re-born in Christ, so we follow His example and go into seclusion and pray and fast. The Devil is strongest with temptation and tricks after concecration ~ Sometimes the fast may last even longer than 40 days.~ For example, I became Emahoy at end of January and after seclusion, Lent Fasting began, therfore I fasted 40 days in seclusion and then 55 days for Lent.
+ Monks/Emahoys (Nuns) observe additional fast days not required of the lay people.
~~~
In addition to these, there is the fast of repentance which a man keeps after committing sin, it being imposed as a penance by the priest for seven days, forty days or one year. ~ The priest rarely grants dispensations. ~ The person who ignores or neglects any injunction of the church is not considered good Christian. ~+~ (Pregnant women, the very ill or persons with chronic illness is excused from the strict food fasting, but not the PRAYER, Alms or other forms of fasting) Always talk with your Spiritual Father/Priest for final word regarding your illness and fasting.
******************
~~~ FIXED DATE:
Ethiopian Christmas (Gena) . . . . . . 07 January
Epiphany/Christ Baptized (Timket) . . . 19 January
The Transfiguration (Debre Tabor) . . 19 August
~~~
MINOR HOLY DAYS ~
+ Sebklet (1st Sunday in Advent /before Christmas) Commemoration of the prophecies made by the prophets concerning the coming of the Messiah.
+ Brhan /Berhane /Light (2nd Sunday in Advent / before Christmas) Commemoration of the fulfillment of the Word (Our Lord)
+ Nolawe (3rd Sunday in Advent / before Christmas) Commemoration of the Good Shepherd (Our Lord)
+ Yelidet Gahad (Christmas Eve) ~ 06 January ~ Commemoration of the actual birth & revelation of Our Lord
+ Gizret (Circumcision) ~ 15 January ~ Commemoration of the circumcision of Our Lord
+ Debre Zeit (the Festival of Mount Olives) -The second advent is to take place on Mount Olives. Special prayers for righteousness are offered
~~~
+ Birth of Simon ~ (Presentation of Christ in the Temple) Febuary 15
Simon was an old man over 80 years old, he was just, and devout. It was revealed unto him by the Holy Spirit that he should not see death before he had seen the Lord Christ. When Eysus Kristos was brought into the temple, Simon took him up in his arms and blessed God. It was said that the old man immediately became young (30 yrs. old), for this reason this Holy Day is called Birth of Simon (Born Again).
~~~
+ Qanna Ze Galilla ~ Wedding of Cana January 21 (The first miracle of the Lord where He changed water to wine.)
+ Masqal (Finding of the True Cross) ~ 19 Mar. (W) and 27 Sept. ~ In commemoration of the finding of the true Cross
+ Lazarus Saturday ~ April 27
******************
CHRISTIAN and some other NATIONAL Days
Some days are commemorated by all Ethiopians regardless of religion, race, or tribe.
~~~
New Years Day (Addis Amet / Enkutatash) . . . 11 Sept. (12th in Leap Year)
~~~
Victory of Adua (Ye-Adua Amet) . . . . 03 March
Ethiopian Martyr's Day (Ye-Ethiopia) . . 19 March
Liberation Day (Le Nessanet) . . . . . . . 05 May
May 1 – Labour Day . . . . . . . . . . . . . 01 May
May 5 – Patriots' Victory Day
May 28 – National Day (Dergue Downfall Day)
Revolution Day (Abeyot) . . . . . . . . . . . 12 Sept
~~~
Freely I put this info together for everyone to have and to know, so please share or tag freely with friends. (I am sorry to say, but, I ask that certain "someones" please behave Christian and don't copy to sell in your book or other things for profit. Be kind and with Love.) Knowledge is to be shared, don't hold it for ransom or vain-glory. ~ It is my greatest desire that everyone be able to know and keep the fasts and feasts of our Orthodox Church and grow stronger in the Faith and in their love of Almighty God. ~ Together we can accomplish this if we take away selfish behaveor, ego, false pride, vain glory, the feeling that one is superior to the other, in other words we must become more humble in Christ and act out of love for each other. Together we can build and maintain a strong Orthodox Christian foundation in the West and all over. ~ It begins with each of us. ~~~ Be of good courage everyone and begin with the required fasts, then as time goes on, you can add others to your yearly spiritual life. You are a beloved child of God. May God Bless and keep you in His Grace eternally - Emahoy Hannah Maryam.