A senior official from the Ethiopian Orthodox Church, Melakehiwot Aba Woldeyesus Seifu, has told the BBC that more than 60 of its followers were killed in days of unrest in the country's Oromia region last week.
The exact overall death toll from the trouble has been hard to establish.
On Friday, the Oromia police chief told the Reuters news agency that 67 people were killed. Thirteen died from bullet wounds and the rest died from injuries sustained after being pelted by stones.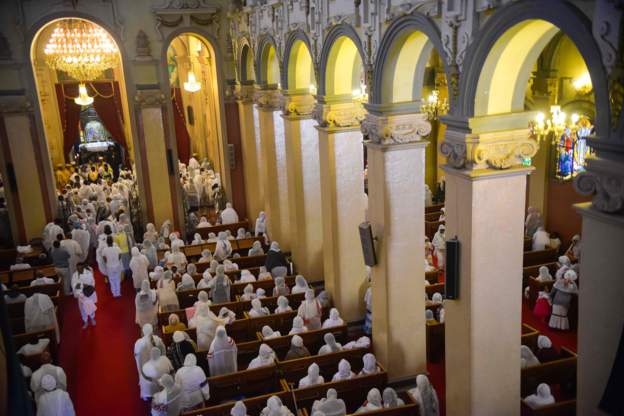 It is not clear if this figure includes those that Aba Woldeyesus said had died.
The unrest broke out after influential Oromo activist and journalist Jawar Mohammed said that attempts were made to endanger his life by removing his bodyguards.
Some have alleged that the killings were the result of ethnic and religious tension, but there has been no official explanation.
The Orthodox Church, the largest faith group in Ethiopia, had previously said that its institutions and followers are being targeted.
Aba Woldeyesus also told the BBC that 158 adults plus some children are sheltering in a church in the town of Dodola, 290km (180 miles) south of the capital, Addis Ababa. They have been there for four days with the army providing food and water, the official said.
Soldiers have been deployed in areas affected by the violence.
On Saturday, Prime Minister Abiy Ahmed described what had happened as "evil acts" and said people should avoid division.
Kalkidan Yibeltal
BBC News, Addis Ababa