Login with your social network account
Leader

Posts: 1129
Joined: 07 Aug 2009 14:20
Contact:
እንዴት የታገዱ ድረ-ገጾችን ለማየት እና ራሳችንን ከሌቦች ለመደበቅ እንደምንችል
[youtube]http://www.youtube.com/watch?v=xm_j0SyBDpc[/youtube]
በነጻ የኢንተርኔት ቦታዎች ስንጠቀም እንዴት ኮምፒውተራችንን በመደበቅ ኢንፎርሜሽኖቻችንን ሊሰርቁ ከሚችሉ ሌቦች መደበቅ እንደምንችል
እና በተለያዩ ምክንያቶች የታገዱ ድረ-ገጾችን ለማየት
How to install Hotspot Shield VPN software to hide our information and ourselves while we use public wifi networks and
access blocked websites from outside of USA.
You can get this software on
http://hotspotshield.com/
or on
http://ethiopiaforums.com/downloads
Get More Free Software from
EthiopianSoftware.com
Sponsor Ads
---
Leader

Posts: 1129
Joined: 07 Aug 2009 14:20
Contact:
In Case If you can't connect to internet or webpages after you install Hotspot shield try this.
You may know what Hotspot Shield is. It is probably the most popular, free VPN service that secures and encrypts your online activities
regardless of where you're located. You can check your mail, update Twitter, check up on your friends at Facebook or you can do anything
online without being noticed by others.
However, on some machines you can't connect Hotspot Shield because of some unknown reasons. Here is a simple solution by
Patrick Soon
, which may solve the problem.
1.[s]Install HotSpot Shield[/s] ( Skip this since you already did this.)
2. When it has finished installing it will try to open the HotSpot Shield Website in Internet
Explorer or which ever browser you are using i.e.
http://127.0.0.1:895/config/?action=connect&l...
3. When your web browser opens go to the Address Bar and copy and paste the address to Note pad, word pad, or Microsoft word and save.
4. If you get an error message stating that there is no connectivity then continue on to step 5.
5. Go to: start/ Control Panel/ Network Connection/L ocal Area Connection/ Properties/
6. In the General Tab you will see a short list of ticked boxes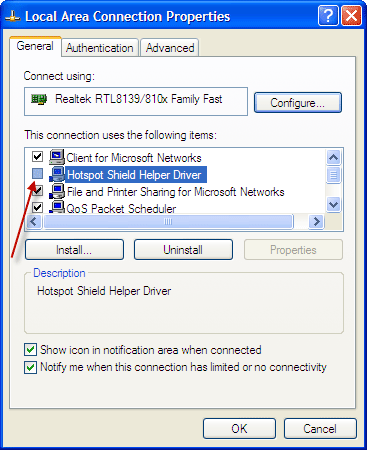 7. Scroll down the list and you should find Hotspot Shield Helper Driver
8. Remove the tick from this box as it shows on the image
9. Close and reopen your web browser it should now connect to your default web page
10. Remember that address you saved as a text document? Copy and past it into the address bar of your browser
11. Press the refresh icon
12.The Hotspot Shield Website will now open and assign you an I.P address i.e. it will connect you
13 It should now work normally as before
Main Source:
http://www.patricksoon.com/
Source:
http://techtrickz.com/
__________________________________

style="display:block"
data-ad-format="fluid"
data-ad-layout-key="-ec+6s-4b-cl+138"
data-ad-client="ca-pub-1742817361350463"
data-ad-slot="1261547414">

---
Posts: 1
Joined: 13 Nov 2012 01:55
Contact:
If someone is considering to build an app for iOS then this information is really valuable. Hope you will find my post to be as interesting as yours was.
---
Posts: 1
Joined: 02 Dec 2013 01:36
Contact:
Last edited by
erum
on 23 Aug 2014 07:29, edited 1 time in total.
---
Posts: 3
Joined: 22 Jan 2014 22:04
Contact:
I really like this forum.
______________________
Here is my
Buy RS Gold
will sent to you.
---
---