Login with your social network account
Forum rules
NO Rated R Pictures! please.
Posts: 1
Joined: 26 Apr 2011 18:05
Contact:
To Ethiopian girls who live in D.C,
I will be flying to D.C on a business trip around the end of May. I need an Ethiopian girl/woman who will accompany me to the business meetings and dinners. I am going to need her for about 4hrs/day for six days. It will be purely business. I will compensate her at a rate of $50/hr for the time she will spent with me. If any girl is interested please contact me at the following e mail-
fair3338@sbcglobal.net
.
No hard feelings, I hope.
Thank you.
PS: I figured we should keep the job opportunities with in ourselves
---
Leader

Posts: 283
Joined: 29 Oct 2009 10:32
Contact:
Ethiopian born DC raised
Wayna Wondwossen
is a singer/songwriter taking the Indie music world by storm. She released her debut album Moments of Clarity – Book 1 in 2004 and received critical acclaim from major publications Billboard and Essence magazine. She went on to open for a number of internationally recognized artists on the DC leg of their respective tours including Fantasia, Amerie, Common, Bobby Valentino, Jaguar Wright, Kindred, and Chuck Brown. She's performed and headlined at renowned venues such as the White House (DC), the Temple Bar (CA), the Apollo Theater (NY), the Lincoln Theater (DC), Joe's Pub (NY), Dream Nightclub (DC), the Black Cat (DC), the 9:30 club (DC), Bohemian Caverns (DC), Takoma Station (DC), the Ashford and Simpson Sugar Bar (NY), and the George Dome (GA).
Wayna was crowned Miss Black Unity of the University of Maryland in 1995. She earned a Bachelor's degree with a double major in English and Speech Communication from the University of Maryland. She soon after began her professional career as a Writer in the White House for the Clinton administration. Her love for music and performing stayed with her and she finally decided to pursue her dream full time. Moments of Clarity – Book 1 was the result of this decision.
What is equally impressive is that Wayna formed a company, Quiet Power Productions and produced and promoted the album on her own. Wayna became a business woman overnight and the results have been fruitful. Wayna is putting finishing touches on her follow up album, Moments of Clarity – Book 2 and recently returned from performing in Adis Ababa. I spoke with Wayna and her company name Quiet Power described her perfectly. She has had amazing success and has met some pretty big names in her short career but Wayna remains humble and wears her African crown with pride. We caught up like old girlfriends and talked about her music and being the child of two cultures. She reminded me of how growing up in the 80's when most of the images of Ethiopia were negative was not easy and how life has been for her as a recording artist.
Read the whole interview on
jamati.com/online/music/drum-beat-with-wayna
[youtube]http://www.youtube.com/watch?v=Pn0Hnh_bpds&feature=player_detailpage[/youtube]
---
Leader

Posts: 952
Joined: 19 Aug 2009 17:01
Contact:
---
Leader

Posts: 952
Joined: 19 Aug 2009 17:01
Contact:
First Female Captain of Ethiopian Airlines,
Captain Amsale Gualu Endegnanew
Amsale Gualu Endegnanew Celebrating for being the First Female captain of Ethiopian Airlines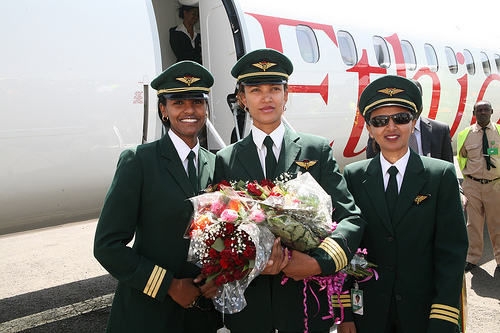 Ethiopian Airlines female pilots
Ethiopian Airlines Hostess known for their beautiful smile and hospitality.
---
Leader

Posts: 283
Joined: 29 Oct 2009 10:32
Contact:
Top Model of The World - Aman Taye Lemma ( Ethiopia )


Ethiopian Model Aman Taye Lemma


Watch Entertainment Videos
at KonjoTube.com
---
Leader

Posts: 952
Joined: 19 Aug 2009 17:01
Contact:
Ruth Negga
(born 1982) is an Ethiopian-Irish actress who has starred in Irish films such as
Capital Letters
(2004),
Isolation
(2005) and
Breakfast On Pluto
(2005). She has also appeared in the BBC mini-series
Criminal Justice and E4's Misfits
.
Background
Negga was born in Addis Ababa, Ethiopia, where she lived until she was four, to an Irish mother and an Ethiopian father. Her father died in a car accident when she was seven. She now lives in London, but continues to visit Ethiopia.
Negga trained at the Samuel Beckett Centre at Trinity College, Dublin, graduating with a BA in Acting Studies.
Career
Negga made her screen debut in the Irish film
Capital Letters
(2004), playing the lead role of Taiwo. She went on to play the lead role of Mary in
Isolation
(2005). Prior to this she had been working mostly in theatre.
After seeing Negga act, director Neil Jordan changed the script to
Breakfast On Pluto
so that she could appear in the movie.She has also starred in
Colour Me Kubrick
(2005), with John Malkovich, and the short films
The Four Horsemen
,
3-Minute 4-Play
and
Stars
.
On television Negga has appeared in
Doctors
,
Criminal Justice
and the Irish series
Love Is The Drug
. She also played the lead role of Doris 'Sid' Siddiqi in the BBC Three series
Personal Affairs
, alongside Laura Aikman, Annabel Scholey and Maimie McCoy. Negga also appeared as Dame Shirley Bassey in the BBC production
Shirley
in 2011.
Negga's theatre work includes roles in
Duck
,
Titus Andronicus
and
Lay Me Down Softly
.As of 2007 she began working with the Irish theatrical group Pan Pan Theatre.[sup][
7
][/sup] In 2010, she played Ophelia in the National Theatre's production of Hamlet.
Ruth Negga

on BBC Breakfast 26.09.11

[youtube]http://www.youtube.com/watch?v=GTxsSdiwPYQ[/youtube]

Ruth Negga interviewed on TV3's Xpose
Awards and recognition
Negga was nominated as 2003's Most Promising Newcomer at the
Olivier Awards
.She was chosen as Ireland's Shooting Star for the 2006
Berlin Film Festival.
Ruth Negga Facebook page
http://www.facebook.com/pages/Ruth-Negga/111612602189140
---
Posts: 2
Joined: 01 Aug 2011 10:16
Contact:
Here s some pick I took in my trip in Ethiopia. The first in a bar in Addis near De Gaule place and tge other one when I was visiting Fassilas pool in Gonder
Beautiful girl in bar - Addis Abbeba, Ethiopia
par
Alex_Saurel
, sur Flickr
Ethiopian girl at Fassilas king swimming-pool - Gonder, Ethiopia
par
Alex_Saurel
, sur Flickr
---
Leader

Posts: 283
Joined: 29 Oct 2009 10:32
Contact:
---
---