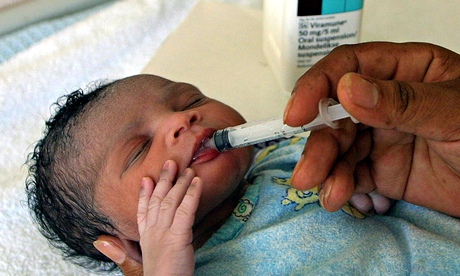 Many of the deaths could be prevented by something as simple as hand-washing or sharing a mother's body heat. Photograph: Anna Zieminski/EPA
More than a million babies around the world die on the day of their birth yearly and a million more are stillborn, according to
Save the Children,
which argues that most of these deaths are preventable.
Although great strides have been made in reducing the numbers of
children
dying under the age of five in the past decade – numbers have halved from 12 million to 6.6 million, there has not been enough progress in reducing the preventable deaths of newborn babies, says the charity.
Most of the deaths occur in developing countries. Some lives could be saved by simple interventions such as handwashing to prevent infections and "kangaroo care", where mothers "incubate" their premature babies by keeping them warm through skin to skin contact.
The charity says there needs to be an increase in the number of women delivering with the help of a trained midwife or health worker, as 1.2 million deaths occur during labour. In cases of obstructed labour, mother and baby are likely to die without a caesarean section.
Save points to the global shortage of health workers who have the skills to help. It is estimated that 7.2 million more midwives, nurses and doctors are needed.
Every year, 46 million women give birth without the assistance of a professionally qualified person, says its report, Ending Newborn Deaths. In sub-Saharan Africa, half of all births are not attended by a midwife or other properly qualified health worker; in Ethiopia, that drops to just 10%. But there are stark inequalities within countries;- in the richest fifth of households in Ethiopia, there are health professionals at 46% of births, compared with 2% among the least well-off.Justin Forsyth, the chief executive of Save the Children, said: "The first day of a child's life is the most dangerous and too many mothers give birth alone on the floor of their home or in the bush without any life-saving help. We hear horror stories of mothers walking for hours during labour to find trained help, all too often ending in tragedy.
Click here to read more