Saturday, 07 November 2009
By Kaleyesus Bekele
Residents of Addis Ababa are expressing discontent at the disruption in drinking water supply in many parts of the city.
Hayahulet, Megenagna, Gerji, Wefcho Bet, Yerer, Gofa and Woyra Sefer are some of the areas which are hard hit by the disruption. Residents in the Woyra Sefer locality told The Reporter that they get tap water once in a week. "The water is available only once a week on Fridays. We store water for the rest of the week. But last week that didn't happen," the residents lamented.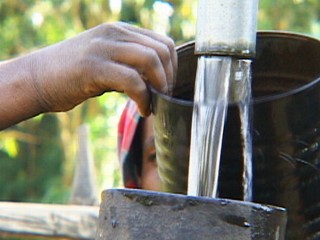 The water shortage has been affecting most parts of Addis Ababa in the past two weeks. However, the Bethel and Woyra Sefer areas have been suffering for quite a long time.
Residents of Gerji area complained that they get water once every three or four days. Young people are seen carrying jerrycans on the streets. Getnet Gessese, communications affairs head of the Addis Ababa Water and Sewerage Authority (AAWSA), told The Reporter that the disruption is attributed to ongoing infrastructure development projects under way in different parts of the city.
Getnet said the disruption in the Nefas Silk Lafto Sub-city was caused by the breaking of a huge water pipe in Akaki, which brings 43,000 cubic meter of water. In addition, Getnet said, due to the Yerer-Lem Hotel road construction project a huge water pipe had to be relocated and this had caused disruption in those areas.
AAWSA has announced plans to boost the clean water supply coverage in Addis Ababa from 64 percent to 85 percent in the coming fiscal year. Getnet said eight water wells are being drilled in Addis Ababa, adding 53 wells will be drilled in the Akaki area.
Source:
Reporter
Read More Ethiopian News