New York (TADIAS) — Last month Difret, an Ethiopian film directed by Zeresenay Berhane Mehari, won the World Cinema Dramatic Audience Award at the 2014 Sundance Film Festival. The film is currently premiering at the Berlin International Film Festival.
Difret, which was initially funded through Kickstarter — an online crowdfunding platform — chronicles the true story of a teenager, from a rural village in the Arsi region, whose widely publicized arrest for murder in the 90s unleashed a historic court battle that resulted in the girl's acquittal on the grounds of self-defense and legally ended the traditional practice of child marriage by abduction in Ethiopia.
Below is an interview with the film's Director, Zeresenay Mehari and Producer Mehret Mandefro.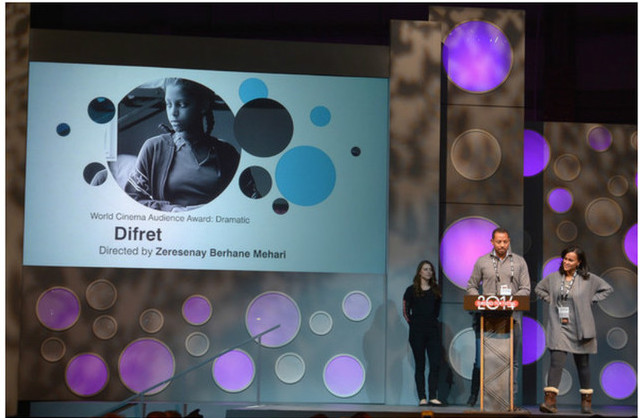 TADIAS: You had been developing the script for quite some time. What inspired you initially and what kept you going?
ZM: When I found Meaza's story I was completely enthralled. What she did to take on a legal system and entrenched tradition is truly inspiring to me. It is what pushed me to tell this particular story and what kept me going throughout.
TADIAS: It was wonderful to see both female characters portrayed in such an honest and complex way without victimization. How did you go about casting for such demanding roles?
ZM: The casting process took 8 months. The toughest role to find was that of the young girl. There aren't many roles for child actors in Ethiopia so we had to go to the schools to try and find the young girl who would play Hirut. We printed out 6,000 flyers and went to all the elementary schools arranging transportation to and back from our audition studio. In the end, I finally found the girl I was looking for, Tizita Hagere. We heard that an old thespian was giving free acting workshops to kids at a local school. As luck would have it, the school was actually my old elementary school. And there in my old classroom was Tizita. I saw her and immediately knew she was Hirut.
Meron Getnet was easier to find. She is a very established actress in Ethiopia and during the audition process she stood out from her peers immediately. She is a truly talented actress with a very bright future ahead of her.
- See more at:
http://www.tadias.com/02/11/2014/tadias ... d-producer