Login with your social network account
Leader

Posts: 1129
Joined: 07 Aug 2009 14:20
Contact:
Crashed jet was 8 years old, leased from U.S. firm
ADDIS ABABA, Jan 25 (Reuters) - The Ethiopian Airlines [ETHA.UL] Boeing 737-800 that crashed after taking off from Beirut on Monday was eight years old and had been leased from a division of U.S. financing company CIT Group (CIT.N), the airline said.
[font=Georgia]"The aircraft was maintained. The last maintenance was on Dec. 25 -- it was a normal check. It has no technical problems at all," Ethiopian Airlines Chief Executive Girma Wake told a news conference in Addis Ababa. "It departed from here yesterday with no remarks at all. It left Beirut with no remarks at all," he added.[/font]
[font=Georgia][/font]
The plane with 90 people on board crashed into the sea minutes after taking off from Beirut in stormy weather early on Monday and there were no reports of survivors. [ID:nLDE60O00J]
Ethiopian Airlines said the Boeing 737-800, a recent version of Boeing's (
BA.N
) best-selling model [ID:nLDE60O00J], had left the U.S. planemaker's factory in 2002.
The airline said it had leased the aircraft in September 2009 from CIT Aerospace, part of commercial lender CIT Group.
CIT, a bank holding company and a lender to mainly small and medium-sized businesses, recently emerged from bankruptcy in the United States triggered by the financial crisis. Neither CIT nor Boeing was immediately available for comment.
CIT is a well-known name in the aviation industry and manages a fleet of more than 300 aircraft. It provides leasing and financing to more than 100 airlines, according to its website.
The aircraft was one of two Boeing 737-800s being operated under lease by Ethiopian Airlines, which said last week it had ordered 10 more to broaden its network.
Source:
Reuters
---
Leader

Posts: 1129
Joined: 07 Aug 2009 14:20
Contact:
[font=Times New Roman]

Ethiopian plane was on fire before it crashes

[/font]
[youtube]http://www.youtube.com/watch?v=OCe-_aVAYS4[/youtube]
[youtube]http://www.youtube.com/watch?v=ub5Pg05V5ew[/youtube]
[youtube]http://www.youtube.com/watch?v=5b6L523QoKw[/youtube]
[youtube]http://www.youtube.com/watch?v=iyo0-8-TTfw[/youtube]
MORE UPDATES AND NEWS NEXT PAGE...
የሚቀጥለውን ገጽ ይመልከቱ

style="display:block"
data-ad-format="fluid"
data-ad-layout-key="-ec+6s-4b-cl+138"
data-ad-client="ca-pub-1742817361350463"
data-ad-slot="1261547414">

---
Leader

Posts: 1129
Joined: 07 Aug 2009 14:20
Contact:
Devon family mourns Beirut plane crash victim
A Devon family is mourning the loss a father who died when a plane crashed into the sea after leaving Beirut.
Afif Krisht visited sons Alex and Adam over New Year
Businessman Afif Krisht, 57, was among 90 people aboard an Ethiopian Airlines passenger plane which plunged into the Mediterranean on Monday.
His former wife Tania, 44, lives in Leigham, Plymouth, with their two sons, Alex, 20 and Adam, 18.
Another son, Michael, 26, works in Angola with Mr Krisht who visited the family in Plymouth over the new year.
Michael called his mother on Monday morning to say he had been told by the authorities that Mr Krisht had died.
Mr Krisht, who had dual British-Lebanese nationality, had been en-route to Angola from Beirut via Addis Ababa.
Mrs Krisht told BBC News that she and the boys were "devastated".
The boys regularly visited their father in Lebanon in the summer.
Mrs Krisht said: "He was one of my best friends.
"The boys are being very brave - it hasn't sunk in yet for any of us.
"I am devastated for my children and for Afif. He is a good man. No-one deserves to end their life like that."
The passenger plane crashed shortly after take-off from Beirut airport.
Eyewitnesses say they saw a ball of fire in the sky before Addis Ababa-bound Flight ET409, which had taken off in stormy weather, fell into the sea.
At least 21 bodies have been found and the airline's chief executive said there was no word of survivors.

style="display:block"
data-ad-format="fluid"
data-ad-layout-key="-ec+6s-4b-cl+138"
data-ad-client="ca-pub-1742817361350463"
data-ad-slot="1261547414">

---
Leader

Posts: 1129
Joined: 07 Aug 2009 14:20
Contact:
Ethiopian families await news

ADDIS ABABA, Jan 25 - The relatives of the 23 Ethiopian nationals who were on board the Ethiopian Airlines plane
that crashed Monday shortly after leaving Beirut were awaiting news of their loved ones at home.

Airline officials said they were still holding up hope that survivors could be found but the government declared a national day of mourning.
Ethiopian Airlines told AFP it had driven back home dozens of relatives who had been waiting for news of their relatives
on flight ET 409 at Addis Ababa's international airport.
The families received the support of religious leaders from Ethiopia's Islamic Council and from the Orthodox Church, the country's two main faiths.
Lebanese officials and witnesses said the Boeing crashed into the Mediterranean Sea in a huge ball of flames,
leaving little chance of survival for any of the 90 people on board.
But Tewodros Abdisa refused to lose hope. His 35-year-old cousin Tigist Shakur spent a year as a maid in Lebanon and
had just decided to return to Ethiopia, citing abuse by her employers.
"Ethiopian Airlines is telling us that nine people may have survived the crash and that we should wait to find out
whether our relatives are among them," he told AFP.
The Ethiopian security forces quickly barred the press from accessing the main arrivals terminal.
Lebanese and Ethiopian officials swiftly launched an investigation into the cause of the crash, having both ruled out any foul play.
Sources at Addis Ababa airport said the plane's pilot was a seasoned captain who had two decades of experience flying for Ethiopian Airlines.
Communications Minister Bereket Simon appeared to have little hope that any of the plane's crew and passengers
could be found alive and said a national day of mourning had been declared to honour the victims.
"A day of mourning has been declared today by the government following the crash of the Ethiopian Airlines flight in Lebanon...
The day is today and for one day," he said.
The Ethiopian News Agency reported that Prime Minister Meles Zenawi, who was attending a ceremony for
the country's pastoralist communities, "expressed sorrow" over the crash.

[left]Source:Capital FM[/left]


style="display:block"
data-ad-format="fluid"
data-ad-layout-key="-ec+6s-4b-cl+138"
data-ad-client="ca-pub-1742817361350463"
data-ad-slot="1261547414">

---
Leader

Posts: 1129
Joined: 07 Aug 2009 14:20
Contact:
Lebanon plane victims to be identified
> Hopes Fades for a survival
> Witnesses saw ball of fire in sky during bad storm
Investigators were tonight carrying out DNA tests on severely burned bodies recovered from the sea after an Ethiopian Airlines flight carrying 90 people caught fire during a lightning storm and crashed into the Mediterranean minutes after taking off from Beirut.
As darkness fell no survivors had been found in the stormy waters off
Lebanon
, despite search and rescue efforts by the country's military, UN naval peacekeepers and units from nearby Cyprus who were tonight joined by British and French helicopter teams.
The plane's 83 passengers included 56 Lebanese – two with dual British nationality – 22 Ethiopians and individuals from Canada, Syria, Iraq and Russia, as well as the American-born wife of the French ambassador to Lebanon. By tonight at least 34 bodies had been recovered.
Lebanon's National News Agency tonight confirmed that 57-year-old Afif Karshat was one of two Lebanese with dual British nationality among the casualties.
Lebanon's president, Michel Suleiman, said terrorism was not suspected in the crash of the Boeing 737-800, which was headed for the Ethiopian capital, Addis Ababa. "Sabotage is ruled out as of now," he said. Lebanon's defence minister, Elias Murr, blamed bad weather for the crash. An official investigation has been launched, but the plane's black box has yet to be recovered.
Several eyewitnesses reported hearing an explosion and seeing a ball of flame in the sky just after 2.30am today, during a fierce winter thunderstorm.
"There was huge thunder and it was raining like crazy. The lightning was coming down from the clouds. The electricity had gone out, but I couldn't sleep. Then I heard an explosion," said Hassan Ramadan, a 39-year-old engineering contractor from Khalde, just a few miles from where the plane went down.
"I thought it was a building collapsing. I opened the window and saw a huge flame going down in different pieces. I can't believe what happened. You usually only see that on TV," he said.
The prime minister, Saad Hariri, who toured the crash site by helicopter, declared a day of mourning in honour of the dead. "This is a tragedy for Lebanon, and we are working to find the missing passengers," he told reporters. Divers from the country's tiny navy were on the scene within a couple of hours of the crash and continued to be winched in and out of the churning grey seas throughout the day as the bodies and personal belongings of passengers washed up on beaches just south of the capital.
Mothers and relatives of those killed wept and screamed as ambulances brought the burned bodies for identification at the governmental hospital in Beirut. At the airport families of those missing sat in shock, waiting for news, some weeping silently, others collapsing as they tried to walk outside.
Specialist trauma psychologists were sent to the airport to try and comfort distraught families.
"We've never suffered a catastrophe like this air crash before in Lebanon," said Dr Mirna Ghannage, from the Centre for Mental Health.
Riad Ismael's 36-year-old nephew Yasser was among those missing. Like so many in this nation of expatriates, Yasser had left Lebanon soon after graduating, having been unable to find a job. After five years working in a Lebanese restaurant in London he moved to Sudan to pursue his speciality – computer engineering – before starting his own business in Angola. The young father had taken time off to fly home to Lebanon via Ethiopia to visit his wife and two children, aged five and two.
"When we find answers to who is responsible for this crash we have to ask another question: why does the young generation of Lebanese have to live in exile?" said Riad Ismael, the mayor of a village near the south Lebanon town of Nabatiyeh.
"Yasser is like all young guys in Lebanon. , His motives were to build a better future and provide for his family. He was far away from his family and always wanted to return home. He came home to give them money and then died. It is a tragedy."
Many of the Ethiopians killed in the crash were also economic migrants, but in the reverse direction – young women who left homes and families to travel to Lebanon to work as domestic helpers in the homes of wealthy Lebanese.
Many are treated as little more than slaves, human rights activists claim. In many cases servants go unpaid, are confined indoors and made to work long hours seven days a week. Some are beaten and even sometimes raped.
"Why do you Lebanese never treat us good?" screamed one Ethiopian woman as security forces prevented her from entering the governmental hospital in Beirut today to identify a body. "We are human beings like you. God created us. Why don't I have the right to come in and see my sister?"
[center] [/center]
Outside the hospital a group of Ethiopian women stood quietly in a corner, waiting for news of friends on the flight – young women like the friend they knew as Warkey, who arrived in Lebanon to work for a family in Nabatiyeh,
"She had worked for two years and her family had not paid her salary once," said one of Warkey's friends, who asked not to be named. "She even had to buy her own clothes. So she ran away and I took her in. But she said she missed her parents so much and had to go home. She was only 20.
"We went to the embassy and they did not help. Because she had run away and did not have any papers, she ended up being arrested and put in prison," she said, her dark brown eyes welling up with tears.
"They let her out of prison on Saturday and drove her to the airport, so she could take that flight."
Source:
guardian.co.uk

style="display:block"
data-ad-format="fluid"
data-ad-layout-key="-ec+6s-4b-cl+138"
data-ad-client="ca-pub-1742817361350463"
data-ad-slot="1261547414">

---
Leader

Posts: 1129
Joined: 07 Aug 2009 14:20
Contact:
List of Ethiopians on the ill-fated flight ET 409
1) Addis Abera Demise (Ethiopia)
2) Bahrnesh Megersa (Ethiopia)
3) Kidist Wolde Mariam (Ethiopia)
4) Elisabeth Tilhum Habtermariam (Ethiopia)
5) Rahel Tadese (Ethiopia)
6) Etenesh Admasie (Ethiopia)
7) Woinshet Meugistu Melaku (Ethiopia)
8) Azeb Betre Kebede (Ethiopia)
9) Tigist Shikur Hajana (Ethiopia)
10) Hani Gebre Gembezo (Ethiopia)
11) Alunesh Tkele (Ethiopia)
12) Shitu Nuri (Ethiopia)
13) Selam Zigdaya (Ethiopia)
14) Yikma Mohamed (Ethiopia)
15) Seble Agezc (Ethiopia)
16) Aynalem Tessema (Ethiopia)
17) Eyerus Alem Desta (Ethiopia)
18) Mekiya Sirur (Ethiopia)
19) Lakesh Zeleke (Ethiopia)
20) Tigist Anura (Ethiopia)
21) Askalesh Soboka (Ethiopia)
22) Meselu Beshah (Ethiopia)
ET Flight 409 Accident Update 25 January, 2010

08:24 PM - Local Time
Ethiopian Airlines would like to express its deepest sympathy for the passengers and family members affected by the unfortunate accident of ET-409 on January 25, 2010 en-route to Addis from Beirut.
A team of experts from Ethiopian has arrived in Beirut and has reported that the Lebanese government and its army together with the UN security forces in Beirut are aggressively engaged in the search efforts for survivors at the accident scene. It has been established that 25 bodies have been recovered. 14 have been identified as six Ethiopians and eight Lebanese nationals.
The Ethiopian team is working closely with all concerned offices to provide assistance and support to the family and friends of victims affected by the unfortunate accident.
Further information may be obtained from the Ethiopian Airlines Emergency call center +27 11 635 2000.

The pilot of flight ET409 was a career flight professional with over 20 years of experience flying various aircraft over the expanded network of the airline. The aircraft B737-800 with registration number ET-ANB involved in the accident has had its regular maintenance service as recently as December 25, 2009 at the maintenance facilities of the National carrier and was declared safe and fit to fly. The airline's maintenance service holds excellent safety records.
Source:
Nazret

style="display:block"
data-ad-format="fluid"
data-ad-layout-key="-ec+6s-4b-cl+138"
data-ad-client="ca-pub-1742817361350463"
data-ad-slot="1261547414">

---
Leader

Posts: 1129
Joined: 07 Aug 2009 14:20
Contact:
Ethiopian Airlines plane veered off course before sea crash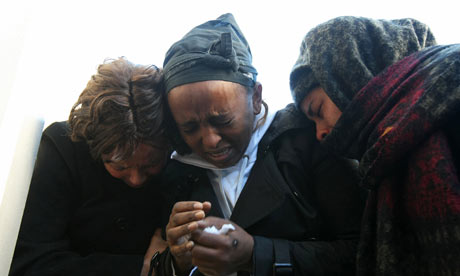 [font=Times New Roman]Ethiopian women mourn the death of a relative killed in the Ethiopian Airlines crash.
[/font]
[font=Times New Roman]The plane reportedly veered off course before crashing in flames.
[/font]
[font=Times New Roman]Photograph: ANWAR AMRO/AFP/Getty Images[/font]
The pilot of an Ethiopian Airlines plane that crashed into the sea flew in the opposite direction from the path recommended by the control tower after taking off from Beirut in a storm,
Lebanon
's transport minister said today.
All 90 people on board were killed when the plane went down in flames minutes after takeoff at around 2:30am yesterday, during a night of lightning and thunderstorms.
The minister, Ghazi Aridi, said the pilot initially followed the tower's guidance, but then abruptly changed course and went in the opposite direction.
"They asked him to correct his path but he did a very fast and strange turn before disappearing completely from the radar," Aridi said.
It was not immediately clear why the pilot veered off the recommended path. Like most other airliners, the Boeing 737 is equipped with its own weather radar, which the pilot may have used rather than following the flight tower's recommendation.
"Nobody is saying the pilot is to blame for not heeding orders," Aridi said, adding: "There could have been many reasons for what happened … Only the black box can tell."
Lebanese officials have ruled out terrorism or sabotage on the flight, which was bound for the Ethiopian capital, Addis Ababa.
No survivors had been found more than 24 hours after the crash. Emergency workers have pulled bodies from the sea.
Searchers were trying to find the plane's flight data recorder, which is critical to determining the cause of the crash.
Rescue teams and equipment sent from the UN and countries including the US and Cyprus were helping in the search.
Pieces of the plane and other debris were washing ashore, and emergency crews pulled a large piece of the plane, about a metre long, from the water. A crew member, Safi Sultaneh, identified it as a piece of wing.
The Lebanese army and witnesses say the plane was on fire shortly after takeoff. A defence official also said some witnesses reported that the plane broke up into three pieces.
At the Government hospital in Beirut, Red Cross workers brought in bodies covered with wool blankets as relatives gathered nearby. Marla Pietton, wife of the French ambassador to Lebanon, was among those on board, according to the French embassy.
source:
Guardian.co.uk

style="display:block"
data-ad-format="fluid"
data-ad-layout-key="-ec+6s-4b-cl+138"
data-ad-client="ca-pub-1742817361350463"
data-ad-slot="1261547414">

---
Leader

Posts: 1129
Joined: 07 Aug 2009 14:20
Contact:
[youtube]http://www.youtube.com/watch?v=7yhJ6JpoM4M[/youtube]

style="display:block"
data-ad-format="fluid"
data-ad-layout-key="-ec+6s-4b-cl+138"
data-ad-client="ca-pub-1742817361350463"
data-ad-slot="1261547414">

---
---