Login with your social network account
Leader

Posts: 152
Joined: 06 Sep 2009 01:52
Contact:
በኮምፒውተር
በኢንተርኔት
በሞባይል፣በአይፖድና በአይፎን

እና በሌሎችም ዙሪያ ያለችሁን

ጥያቄዎች

እዚህ ያስገቡ፡፡



ኮምፒውተር ስንጠቀም የሚገጥሙን ችግሮች፣
ኢንተርኔት ስንጠቀም የሚገጥሙን ችግሮች፤



ሞባይል፣አይፓድና አይፎን ስንጠቀም የሚገጥሙንን ችግሮች እዚህ ቤት ያስገቡ፡፡



ቤቱ የጋራ ስለሆነ ችግር አይግባዎት....!!

መልካም ቆይታ፡፡
Last edited by
morefun
on 13 Mar 2010 03:35, edited 1 time in total.

---
Leader

Posts: 152
Joined: 06 Sep 2009 01:52
Contact:
ለዛሬ ወደመረጥነው ርዕሰ ጉዳይ ስላልፍ....
የተዘጉ ዌብሳይቶችን እንዴት መክፈት ይቻላል...
የሚለው ይሆናል፡፡
------------------------------------------------------------------------
ሁላችሁም እንደምታውቁት በትምህርት ቤቶች(በዪኒቨርስቲዎች)፣በቢሮዎችና በስራቦታዎች እና በመሳሰሉት አካባቢዎች ዌብሳይቶች ይዘጋሉ፡፡
‹ዌብሳይት መዝጋት ማለት የአንድን ዌብሳይት አድራሻ ለምሳሌ
http://www.youtube.com
ሊሆን ይችላል ለማየት በምንሞክርበት ጊዜ Access for this site is blocked ወይም ሌላ ከዚጋ የሚመሳሰል መልክት ያመጣልናል፡፡ የዚህን ጊዜ ዎብሳይቱ ተዘግቷል እንላለን፡፡›
ስለዚህ እንዴት አድርገን ነው መክፈት የምንችለው
-----------------------------------------------------------------------------
ከዚህ ቀጥሎ የተዘጉ ዎብሳይቶችን የመክፈቻ መንገዶች እናያለን
1.Open websites by IP adress
ሁሉም ዌብሳቶች የራሳቸው የሆነ አይፒ አድሬስ አላቸው፡፡ አንዳንድ ጊዜ ዌብሳይቶች ሲዘጉ ስማቸውን በማስገባት ይሆናል ስለዚህ በአይፒ አድሬሳቸው ብንሞክር ሊከፈት ይችላል፡፡
የዌብሳይቶችን አይፒ አድሬስ የማወቂያ ሁለት መንገድ አለ፡፡
የመጀመሪያው Go to Start->Run type CMD ከዛ ping
http://www.website.com
ብለን የሚመጣልን አይፒ አድሬስ ኮፒ ብለን የብሮውሰራችን (ኤክስፕሮረር ውይም ሞዚላ) አድሬስ ባር ላይ ፔስት በማለት ከዛም አንተርን በመጫን ይሆናል፡፡
ሁለተኛው መንገድ ይህን ዌብሳይት በመጠቀም ማወቅ ይቻላል፡፡
እዚጋ ይጫኑ
http://www.selfseo.com/find_ip_address_of_a_website.php
በብዛት የሚዘጉ ዌብሳይቶች አይፒ አድሬሶች
http://www.youtube.com
209.85.227.113
http://www.facebook.com
69.63.187.19
http://www.ethiolove.net
72.29.87.190
http://www.myspace.com
92.123.68.185
2. Google Cache
ሁለተኛው መንገድ ጉግል ካችን በመጠቀም ነው፡፡
http://www.google.com
ብለው ይግቡና የሚፈልጉት ሳይት ሰርች ያርጉ፡፡
ጉግል ውጤቶችን ካመጣ በኋል ከዌብሳይቱ ጎን ያለውን Cached የሚለውን ይጫኑ፡፡የዚን ጊዜ የሚፈልጉት ዌብሳይት ይከፈታል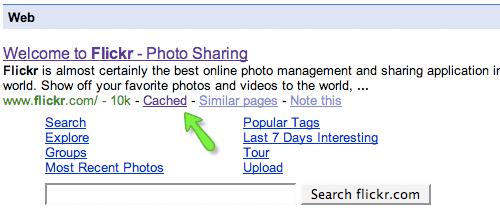 3. Internet Archive – Wayback Machine
ሌላው ደግሞ ኢንተርኔት አርቺቭን በመጠቀም ነው፡፡
እዚጋ በመጫን ወደዌብሳይቱ ይግቡ
http://web.archive.org
ዌብሳይቱ ሲከፈት የሚፈልጉትን በመፃፍ ሰርች ያርጉ፡፡ የዚህን ጊዜ የተለያዩ ዝርዝሮችን የያዘ ፔጅ (ቀኖችን የያዘ) ይከፈታል የሚፈልጉትን በመምረጥ ይክፈቱት፡፡


---
Leader

Posts: 152
Joined: 06 Sep 2009 01:52
Contact:
4. Anonymous Surfing
አራተኛው መንገድ ደግሞ የተዘጉ ዌብሳይቶችን በመጠቀም ነው፡፡

List of Proxies
አንዱ ላይ ይጫኑ....
http://www.24proxy.com/
http://www.645.cc/
http://www.7n4.net/
http://www.911surf.info/
http://browseatwork.com/
http://www.browseorkut.com/
http://www.cdbplc.com/
http://www.cloaknow.com/
http://www.cloakpal.com/
http://www.cloakplus.com/
http://www.cloaktool.com/
http://www.cloakwiz.com/
http://www.davesonlineproxy.com/
http://www.diggaproxy.info/
http://www.diglet.org/
ተጨማሪ ዌብሳይቶች ለማየት እዚጋ ይጫኑ
http://www.hongkiat.com/blog/how-to-acc ... web-sites/
5. Google Translator
አምስተኛው መንገድ ጎግል ትራንስሌተርን በመጠቀም ነው
እዚጋ ይጫኑ....
http://translate.google.com
-------------------------------------------------------------------------------------------
ከነዚህ ውስጥ አንዱ እንደሚሰራሎት ተስፋ አደርጋለሁ፡፡
ጥያቄ እንቀበላለን፡፡

---
Leader

Posts: 152
Joined: 06 Sep 2009 01:52
Contact:
Things You Should Do Before and After Install Windows 7
[center]
[/center]
If you are manage to get your hand on to the new release and ready to install it to your new PC or old PC we've got few tip for you, that will save you hell lot of problem later on.
Before you install Windows 7
Knowing your hardware


make a decision on weather to install 64 bit or 32 bit. It is totally up to you to decide. But long term speaking 64 bit is always a better option.
Install 32 bit only when you have old hardware. Things like your mother board won't support more than 2G of ram or your CPU doesn't support executing the 64 bit instruction. Or some hardware say wireless adaptor doesn't support 64 bit Windows 7 because there is no Windows 7 64 bit driver for it.
Anyhow you should definably
check your CPU. See what kind feature it supports
. Most CPU I'd say even 3-5 years back have already had 64 bit architecture. (For folks has old Pentium 4 ONLY some will have the 64 bit support, but for people who have old AMD athlon, they should have full 64 bit support)
For Netbooks, some Intel Atom CPU do however have 64 bit, but the most common N270 does not have 64 bit support. Also
check make sure before any attempt
.
Other things you might also want to take into account is does all your hardware have the driver ready for Windows 7? Things like old printer, wireless adapter, TV tuner etc.
Microsoft has a fine list of library
that contains almost ALL hardware and software that listed for you to check whether it compatibles with Windows 7.
[center]
[/center]If you are all set with the above, go ahead and install Windows 7
If you want to install it on your netbook, we have
a complete guide on how to do it yourself
.
While and After you install Windows 7
Few things that I personally like to do when I install Windows 7 or any new OS.
1. Create a small partition for your Windows 7. Why ?


There are many good reasons why you want to split your personal documents and programs aside with the OS. (
do this before you install Windows 7
)
Easier to manage in the future if you want to upgrade, or restore, or delete an OS
No need to reinstall all your programs, personal setting is also kept same as before (things like your desktop icon, wallpaper, firefox plugins, iTunes play list, etc) will all remain same as before, even tho you reinstalled the OS
If used wisely, and you don't mind to install windows 7 every 4 month, then you can basically use it for FREE. How ? (google it 120 days windows 7) And after your last day you can simply reinstall windows 7 overwrite the partition and you get IT FOR FREE for another 120 while have all your personal setting keep intact.
So all those kinda good stuff you are getting, all you need to do is to create a small partition roughly around 25 GB to be safe.
You can do this by go to Disk Management (Start menu and type the those word)
[center]
[/center]Right Click your HDD to Shirnk Volume …
[center]
[/center]Here I just put 2500 MB which roughly around 24.42 GB I'm getting which is enough for both Windows 7 32 bit and 64 bit OS
[center]
[/center]Click Shrink to create a new partition.
Now when you install your Windows 7, put all your file into this partition. So what about all my personal documents ? Well we have a tutorial that shows you
how you can move your user profile onto another partition.
2. Get your hard drive space back.


You can create even smaller partition for Windows 7 since the minimum is 16 GB. But there is a problem, if you have super large RAM. Because there is a file called Hiberfil.sys that will have the EXACTLLY the same size as your RAM. and stored in your %SystemRoot%
What's that for ? Discover more here.
Put it into one line, if you don't use hibernation then you can disable it and get all your hard drive space back.
3. Tweaks your Windows 7 to meet your personal requirements
Now after all the stuff you are doing, feel free to discover more tweaks with use, and stay turned as we will have more and more tips tricks and how-to coming on its way! Also make sure to follow us, if you have any questions just leave us a tweet we will check and

---
Leader

Posts: 152
Joined: 06 Sep 2009 01:52
Contact:
[center]
[/center]
Must Have/Useful Programs
[hr][/hr]
I thought it would be a good idea to get a list of useful programs that we could keep here. If a mod comes across this - could you sticky it please. It would be quite helpful. I'm bound to have missed some programs, so if there is some that you think should be on this list - post here or PM me and I'll add them to the list.
With all these programs, there is no right or wrong one to use. Many of these programs are free or at least will offer evaluation periods. Try a few of them and see which one you like the best.
Virus Scanners
If you don't have a virus scanner on your PC - get one and fast. New viruses are released every week and some scan spread all around the world in a matter of hours. The news nowadays is constantly filled with talks of new viruses trying to do this and that. The best way of putting a stop to them is to have a virus checker constantly running on your PC. Here are a few to select from:
Norton Antivirus
- One of the most popular virus scanners out there. My personal choice.
McAfee VirusScan
- Also another of the more popular virus scanners out there.
Eset Nod32 Antivirus
Kaspersky Antivirus
Kaspersky Online virus checker
- Kaspersky also offer a free, online virus check for those who don't want to buy a virus scanner (tisk tisk).
AVG Antivirus
Firewalls
Firewalls are another great way to stop many threats out there on the internet today. A firewall will only let programs send/receive if you say it can. This way you can make sure that your internet browser can access the internet, but any nasty spyware that sneaks in won't be able to. Windows XP comes with a built in firewall but if you don't have XP, or want more control, consider the following.
ZoneAlarm
- Very user friendly but still powerful. Comes in several version - including a free one
McAfee Personal Firewall
Norton Personal Firewall
Sygate Personal Firewall
- Free for personal use
Spyware Removal Tools
Do you keep getting annoying adverts popping up while surfing the internet? Does your browser keep setting your homepage to some rubbish? Well then you have some spyware on your PC my friend. Try downloading one of these bad boys to get rid of it,
Adaware
- Along with Spyware: S&D, a must have on your PC. Looks good, updated regularly.
Spyware: Search & Destroy
- Another great spyware removal tool.
Combined with Adaware, your PC should be adware free.
Also check out the sites for McAfee, Symantec (Norton) etc. for Spyware removal tools as well. You will have to pay for these ones I'm afraid though.
Internet Browsers
Firefox
- Unless you have been hiding under a rock somewhere, you should have heard of Firefox. It's a free internet browser that is rapidly taking away market share from IE. It's faster, safer and has a number of nice extras like themes and extensions.
Internet Explorer
- Out of fairness I put this here. I think Firefox is much better but IE is still the most widely used.
Opera
- Another alternative to IE.
Avant Browser
- Before Firefox, this was my browser of choice. It is actually just a wrapper round IE adding some extra features to it like tabbed browsing.
Email Clients
Fed up with Outlook Express? Well why not try on one of these email clients for size.
Mozilla Thunderbird
- Firefox's sister program. Lovely email client with tonnes of features. Like Firefox you can download extra themes and extensions to make the app even more appealling,
Pegasus Mail
- Some nice features like allowing you to OK attachments before they are downloaded from your email server.

---
Posts: 1
Joined: 26 Aug 2010 09:42
Contact:
ጤና ይስጥልኝ 320 ጂቢ መጠን ያለው ኤክስተርናል ሃርድ ዲስክ እጠቀማለሁ፡፡ ከቀናት ወዲህ ግን ውስጡ የነበሩ ፋይሎችና ፎልደሮች በሙሉ ተደብቀው በምትኩ ሾርትከቶች ተቀምጠዋል ከዚያ ቀን በኋላ ፋይል ስፈልግ ፋይሉ የሚገኝበትን አድራሻ አድሬስ ባር ላይ ካልፃፍኩ ማግኘት ተቸግሬአለሁ፡፡ መፍትሄ ያላችሁ ብትሰጡኝ፡፡
አመሰግናለሁ
---
Leader

Posts: 1129
Joined: 07 Aug 2009 14:20
Contact:
ሰላም አምደየስ;
ጥያቄህን ተከትዬ መፍትሄ ሊሆን የሚችል ነገር በድረ ገጾች ላይ እያፈላለኩ ነበር እናም ይህን ድረ ገጽ አገኘሁ ምናልባት ላንተም ችግር
መፍትሄ ሊሰጥህ ይችላል ብዬ ተስፋ አደርጋለሁ::
እንደ ድረ ገጹ አባባል ይህንን አይነት ነገር የሚከሰተው CIEUHU.EXE የሚባል አይነት ቫይረስ በሚገባበት ጊዜ ነው ይላል::
ምን ምን መደረግ እንደሚገባው በዝርዝር አስቀምጦታል እና እስኪ እሱን ሞክር::
http://social.answers.microsoft.com/Forums/en-US/w7files/thread/695db4cc-645f-4bd1-85c7-41671457fe11
መፍቴውን ተከትለህ ካደረክ በሁዋላ አሁንም ካልተስተካከለ ሌላ አማራጭ ደግሞ እንፈለጋለን
---
Posts: 1
Joined: 30 Jul 2012 06:30
Contact:
1ኛ/ ለ ኖኪያ 500 የሚሆን አማርኛ ፎንት ካላችሁ ?
2ኛ /የነጻ ዊፊ እንዴት አገኛለሁ (ይህውም ለኖኪያ ነው
ምስጋናው ከመልስ በኋላ ይሁን !!!
---
---